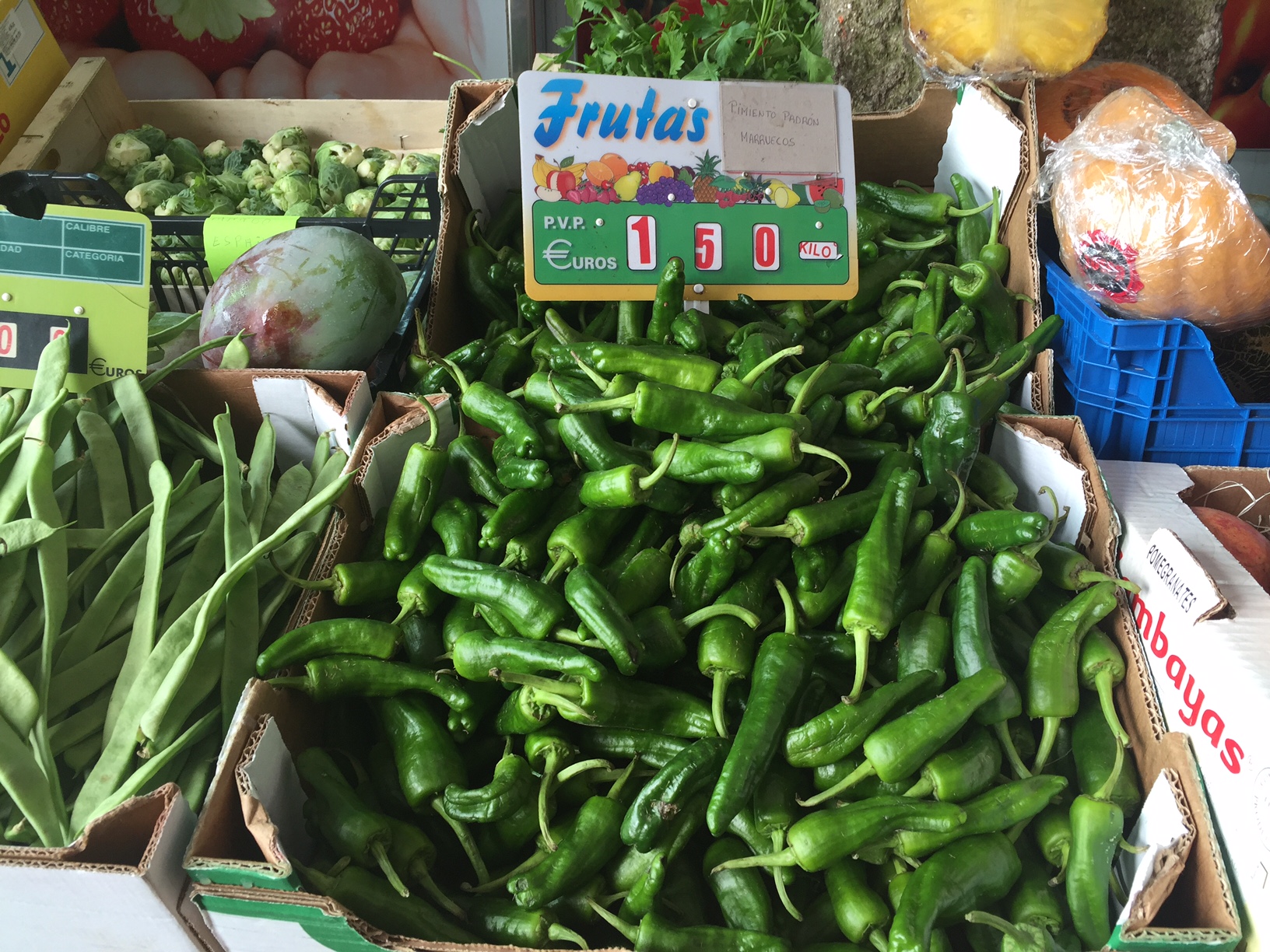 [click on image to enlarge]
Pimientos de padrón originate in Northwest (Galicia) Spain, but I first tasted them in Southwest France. It was 2012, and I was spending my second summer in France along the Mediterranean and not far from the Spanish border. It is a region known as Catalonia. Officially an autonomous community in Spain, with its capital city Barcelona, Catalonia once included Spain and France. On the French side, the region today is called Roussillon, corresponding roughly to the present-day southern French department of Pyrenees-Orientales (Eastern Pyrenees).
My first summer there, in 2011, I went on my own, knowing no one who lived there and also barely speaking or understanding a word of French. Sylvia Boorstein, the renowned American meditation teacher and author from whom I rented the house for three summers (and who is fluent in French) was there with her husband when I arrived to introduced me to some of the people they knew best. These included two neighbors, one a retired pub owner from England, Martin, the other a French woman in her 50s, Monika, who, having been a former flight attendant and spent time abroad, spoke English well. I had both of them over for dinner from time to time, and they returned the favor with dinners at their houses. Or, as was more common in that area, an apero, a French custom of having people over for pre-dinner drinks with finger food (similar to a cocktail party).
One night during my second summer there, Monika invited me to full dinner at the house of a couple she knew. I was acquainted with them; the husband's mother lived across from the street from Sylvia's house in a small development of Spanish-style homes—white or tan stucco with red-tiled roofs—in the foothills of Pyrenees, and we became friendly. Both he (a Frenchman named Robert) and his wife (a French-Canadian named Gabriella) also spoke English quite well. Gabriella, Monika told me, was a good cook.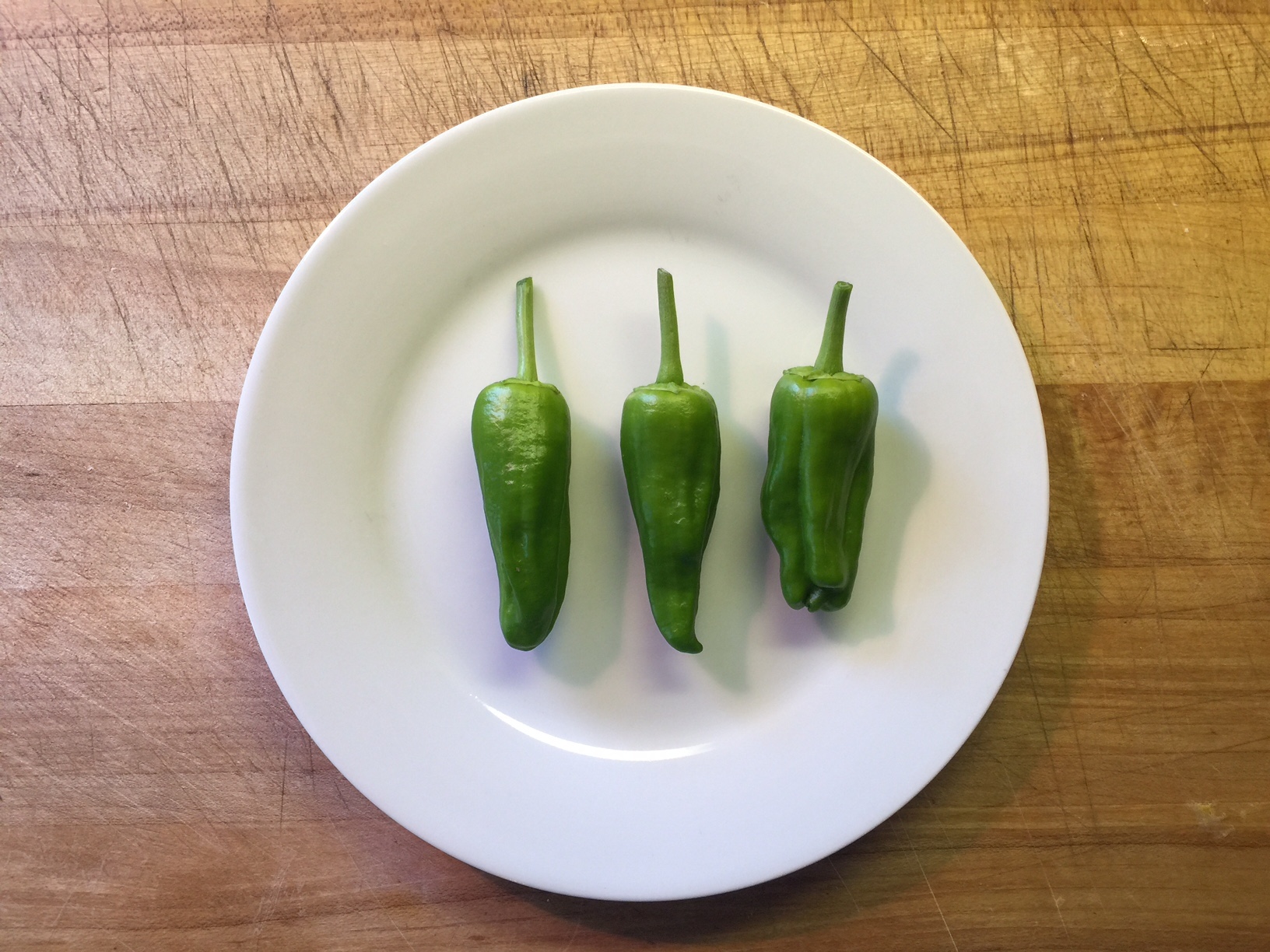 [click on image to enlarge]
By that time, I'd fallen hopelessly in love with the French food and drinks of the region, which had a simple, rustic pedigree to it—dried sausages, hard cheeses, bottles of easy-drinking red wine that cost less than bottled water, bitter green olives, braised pork cheeks, fried bavette (flank) steaks, rillettes (a rillette is similar to a paté, but instead of liver preserved in a terrine it is shredded pork or duck meat preserved in its own fat), fresh fish and shellfish simply prepared, like moules frites (steamed mussels and french fries), a welcomed anomaly that has its origins in Belgian bistros but had made its way south to populate nearly every restaurant menu in the area.
Whatever Gabriella cooked that night I'm sure it was good but the only thing I remember eating was something I'd never seen or eaten before: pimientos de padrón. They were bright green, about three inches long, lightly sautéed in olive oil and blistered, and sprinkled with sea salt. The taste hovered between sweet and salty, with a touch of heat—some more than others (a New York Times writer, I later learned, wrote that eating the dish is like a game of "Spanish Roulette!"). They tasted vaguely close to the large roasted red or green peppers I'd had dozens of times back in the States, and never tire of, only much better, more robust. They released a smoky aftertaste even though there is no smoke used in their preparation. You could almost tell without knowing their history that they were not native to France; there was nothing reserved or polite about them. They were refreshingly bold, nearly audacious, and brought out the restive incivility longing for experience stirring in me. You eat them with your hands and I dove in the devoured them. My friends that night must have thought me a heathen. Worse, an American heathen. In my remaining weeks in France that year, I drove around the countryside like a madman, tracking down the farmers markets that sold these things, unable to get them out of my mind, and raided their supplies to the raised eyebrows of the stall-keepers.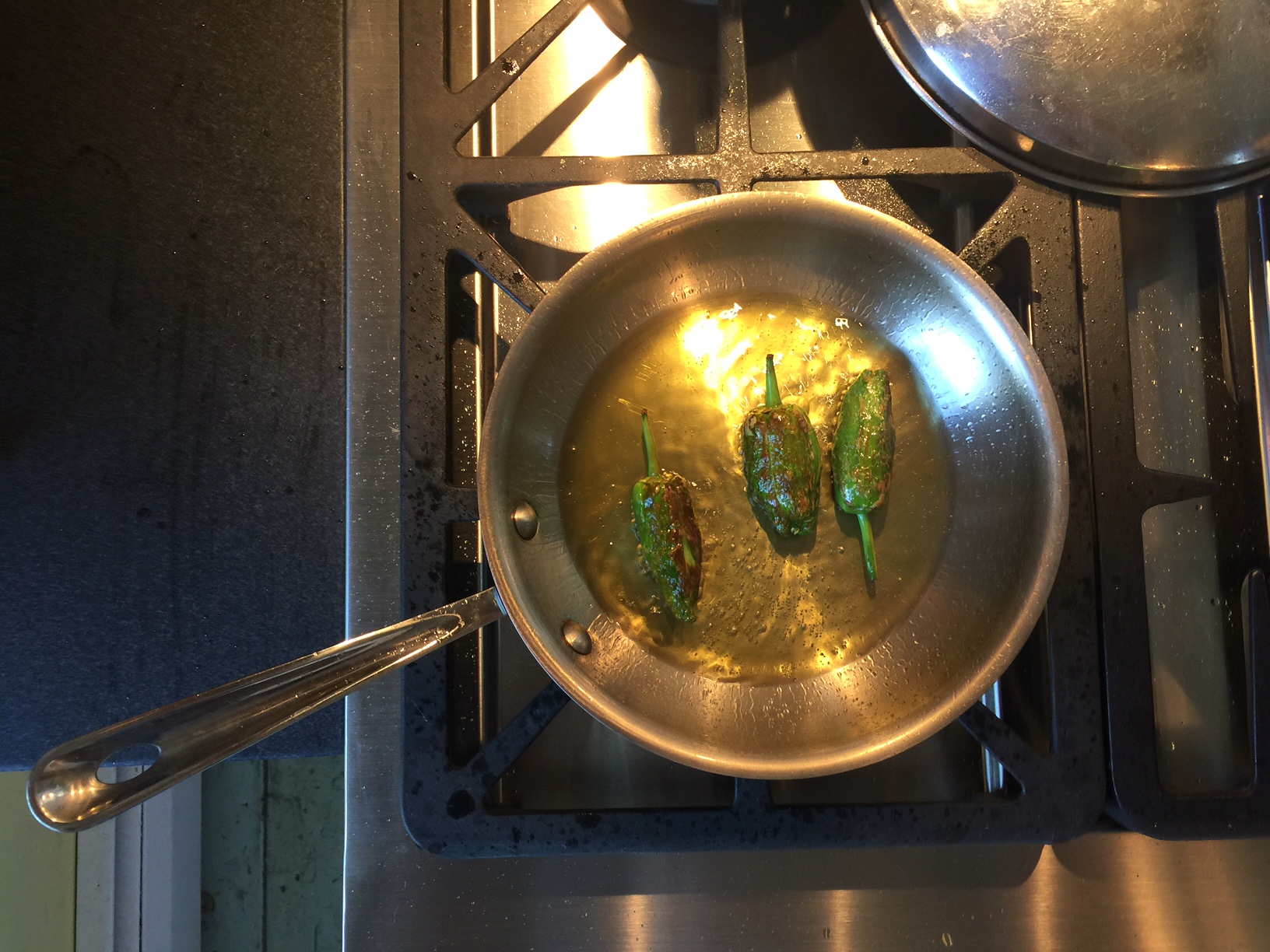 [click on image to enlarge]
Last fall, I walked the 500-mile Santiago de Compostela pilgrimage across northern Spain, from East to West. I can't say I was eagerly waiting to be reunited with my beloved pimientos de padrón, but I knew they were out there, somewhere. Then, once again, I rather stumbled into them, this time in a restaurant about two thirds of the way into my trek. I nearly wept with joy (or was it from the pain of just having walked some 350 miles in about a month?)
From that point on, they were served in nearly every restaurant and bar (now that I was in Galicia) and I had a plate of them at every opportunity. The town of Padrón, where the peppers flourish and were given their name, is a mere 12 miles from Santiago de Compostela. So the closer I got to the end of my trek the more bountiful and fresh the peppers became. The thought of having a plate of those peppers at lunch or dinner on the last, exhausting days on my pilgrimage helped inspire me to keep going.
Sadly, pimientos de padrón are rarely commercially available in stores or famers markets in the States, at least here in the Northeast. The other day I found a small batch of them in the produce department at my local health food store, Mother Earth's Storehouse, for $7.49 a pound. Not bad. There's one American-based website, La Tienda, that sells Spanish food; pimientos de padrón are available on the site (in season), but for $29.95 a pound! As much as I adore them, I will not spend that kind of money after parting with a fraction of that in restaurants in Spain—about $7 a serving—and all cooked and served. In a farmers market in Madrid I saw them for about 1.50 euros a kilo, or about 85 cents a pound. (The sign in the photo below says these pimentos de padrón were from Morocco, which makes sense since by the time I got to Madrid in mid-December, the season in Spain had ended.)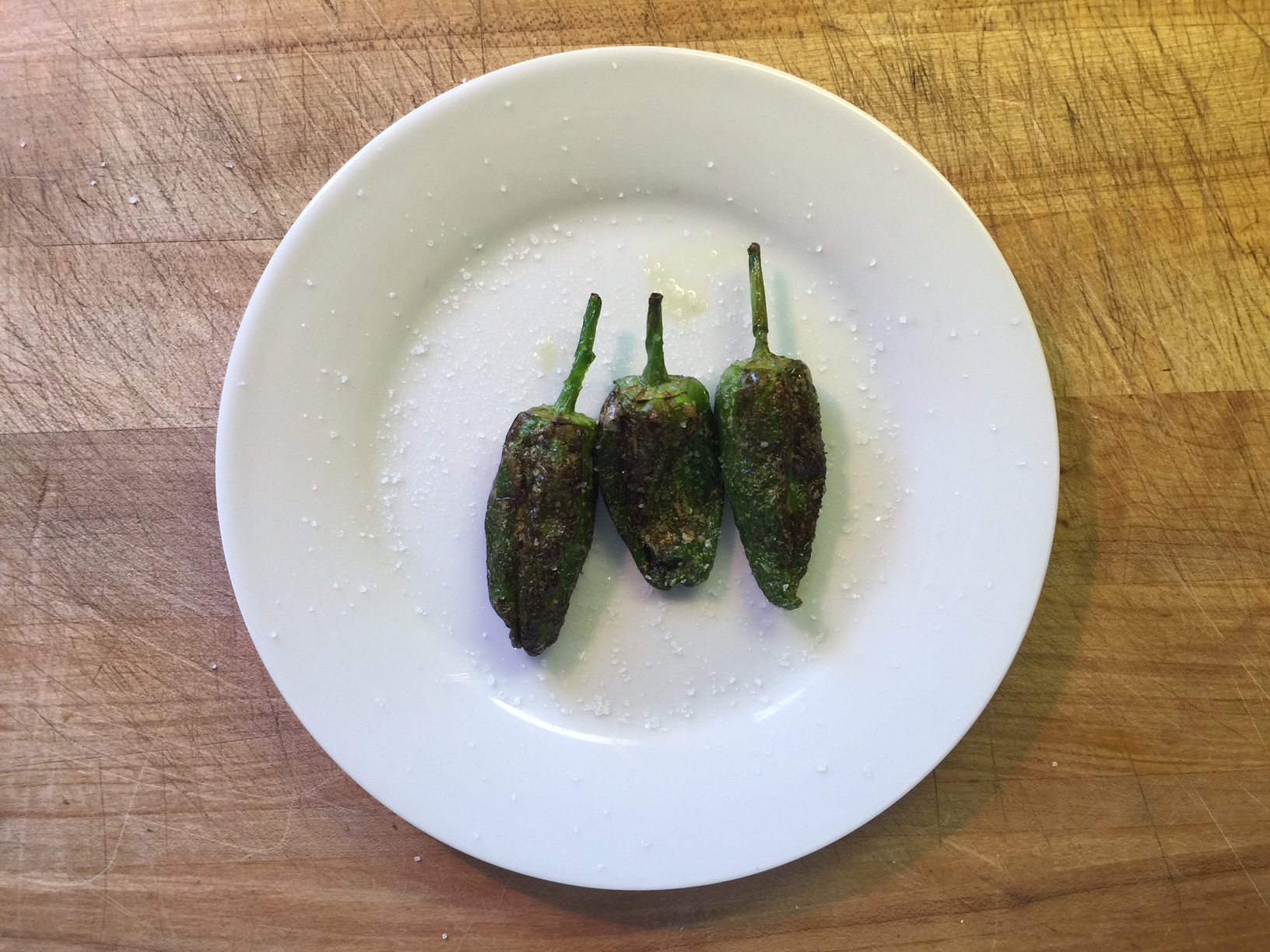 [click on image to enlarge]
Last summer I tried to grow my own from seeds I purchased from Rareseeds.com, but our spring was cold and wet, and the plants never really took off or produced much. This past spring, much to my delight and surprise, a nursery near where I live, the Phantom Gardner, was selling seedlings. I bought six of them and planted them in June. I struck gold. Here it is close autumn and the plants are still growing every day and producing enough peppers for my girlfriend and I to have a half dozen or so nearly every night as an appetizer, or a tapas dish, as they are often served in Spain.
More good news is Pimentos de padrón are turning up in restaurants in on their own or occasional dishes near where I live, incluping Market Street in Rhinebeck, New York, and Gaskins in Germantown, New York—both of them just a few minutes drive from my house. One night at Market Street recently they were served with a mahi mahi dish. When I put in the order I would not have known I was getting pimientos de padrón unless I recognized their Japanese name, shishito peppers, as they are often called here in the States.
I like having my own crop, small as it is. Sometimes I wish they were a regular staple in stores and on the menus of the restaurants I frequent here. Then again, if that were to happen, they might not seem so special to me any longer. Not that I would ever tire of eating them. But part of eating food not native to your own region invokes the fleeting but memorable joys of travel, and I get the feeling that I'd like pimientos de padrón to remain rather out of reach from my daily life all year long, like an old, dear friend from far away whose occasional presence makes you glow and smile with the fond yet unspoken memories of the life you've had together and rekindle during the rare and special times you reunite.
The Recipe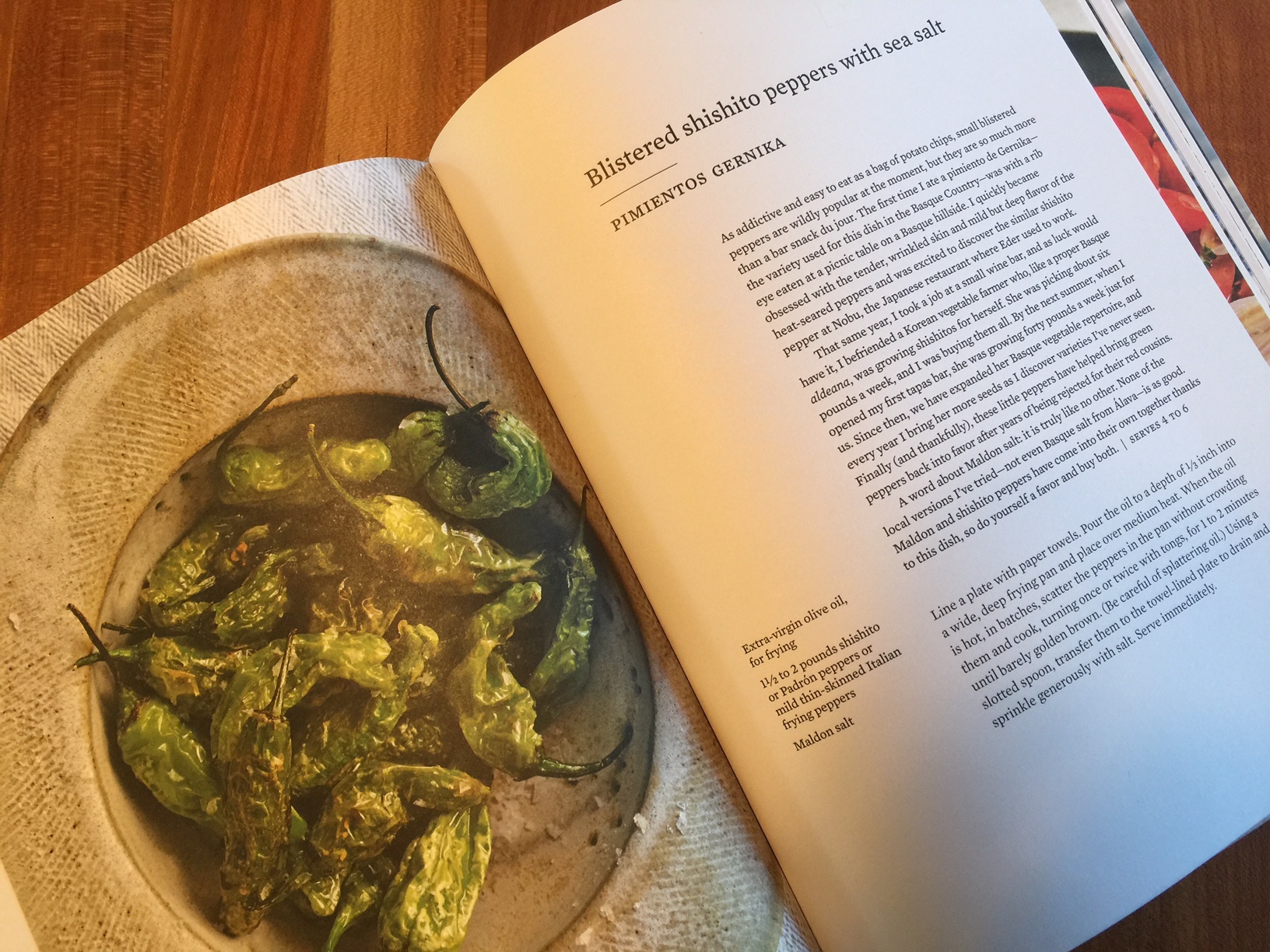 [click on image to enlarge]
Heat on medium enough olive oil in a frying pan to just reach the sides of the peppers, about a ¼ inch to 1/3 inch in the pan. When the oil is hot, gently place the peppers in the oil. They will splatter. (After a few times I cooked them at home I put a pot lid on the pan to keep my clothes, arms, and stove from being splattered.) Don't crowd them. When the side in the oil begins to brown and blister—just a one or two minutes—turn them with a pair of tongs. Line a plate with paper towel. Using a pair of tongs, pick the peppers one by one out of the oil and place them on the paper towel to drain. Sprinkle with sea salt. (The Basque Book cookbook recommends Maldon salt.) Serve while warm or at room temperature. Just be sure to let them cool enough so you don't burn your mouth. Eat them by picking them up with your hands by the stem.